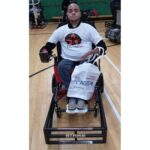 Imagine…
Ismail has a condition called Infantile Onset Pompe disease which means there is an Enzyme missing in his body and this results in muscle and heart failure. He has no walking mobility. He is a full-time student, requires 24/7 care and lives with his parents. Ismail loves football and it's his only social engagement. Not only does he enjoy football as a competitive and physical sport, but it also helps his hand-eye co-ordination and overall fitness. It also has a huge positive psychological benefit, too. Ismail, a passionate Liverpool supporter, loves to play and watch football. He's played for his local side Bolton Bullets for 8 years. Ismail contacted the RGF because his old wheelchair was not up to the standard required to enable him to play football competitively and this seriously affected his ability to participate and enjoy playing. The RGF grant provided Ismail with some of the funding needed to purchase his new Strike Force Sports Wheelchair.
Your support has made a difference…
Ismail said: "The RGF is a fantastic organisation that recognises the importance sport has, not only from a physical perspective, but for me, also my mental wellbeing. Without the support of the RGF and other generous charities, I would not be able to participate in the sport I love and my live, quite simply, would not be the same. I am very aware that the RGF has helped many other young people out there and I can't thank them enough." In the short term, Ismail is now looking to score more goals and become the league's top scorer and maybe some time in the future represent his country. Ismail – you're a star and we wish you every success with your football career. Seeing you in your new Strike Force Sports Wheelchair is an inspiration to us all!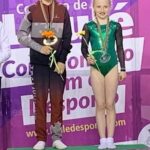 "My name is Fionnuala Mulholland and I am 12 years old. I am a keen gymnast and trampolinist and have recently been selected to represent Great Britain at the World Age Group Championships in Tokyo in December 2019 in the discipline of Double Mini Trampolining (DMT). This is the highlight of a very successful year for me; I attained First place in National Level 2 gymnastics, I am the Northern Ireland FIG 11-12 Girls Trampolining Champion 2019, the Northern Ireland FIG 11-12 Girls DMT Champion 2019, I was selected to represent Northern Ireland at the NDP Regional Team Finals in Birmingham in May, and I was selected for the Northern Ireland FIG DMT squad. At the end of September I attained 1st place in FIG DMT 11-12 at the British Championships in Birmingham, and I have just returned from Portugal where I represented Northern Ireland in the disciplines of Trampolining and DMT; I secured 1st place on DMT in the Under 13 female category and a respectable 6th place on Trampoline in the Under 13 female category in the Loule Cup. There was representation from 14 countries from around the world at the Loule Cup and I took great pride in my performance. Although I am very excited and proud of my achievements, all of this comes at a cost both in terms of time, effort and dedication and in terms of finance. I train with my club in Antrim Forum (Aphx Trampolining Club) 5 days a week. In addition to going to Tokyo, I have weekend GB squad training in October and November in Lilleshall in England. As all of these trips cost a lot of money, never mind all the training and competition gear I need, I have been carrying out some fundraising activities (Night at the races, raffle, Halloween Hoolie etc.) and applying for funding.
more…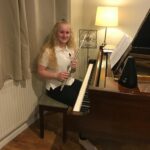 Brioni is a 16-year-old gifted musician from Preston who has been fortunate enough to receive support from the RGF foundation enabling her to continue her studies at the Royal Northern College of Music. Brioni has had a love for music since she was 5 years old and studies the flute and piano. Through hard work and determination, she has performed with many orchestras and represented her country at various concerts within the UK & Europe, being the principal flute with the National Chamber Orchestra of Great Britain, the National Wind Ensemble of Great Britain, the National Youth Orchestra of Scotland and the National Children's Orchestra of the UK. Having won Lancashire's Musician of the Year, Brioni has gone on to become the Principal flute of the Halle Youth Orchestra in Manchester which she loves, this having been her dream since she was 9 years old, to have it come true at age 11 was a remarkable milestone and one she holds dearly. Brioni has worked with the Royal Ballet composing music for a new ballet, as well as being a pit musician for West End shows in London and over in Belfast. Most recently, Brioni was asked to perform for members of the Royal family at a private concert at Buckingham Palace, the ultimate venue for an aspiring musician! Recently her rendition of Winter Spirits by Hoover was played on Classic FM! Alexandra Armstrong introduced her: "prepared to be impressed... a young lady to watch out for!" Her dream is to become a principal artist in an orchestra such as the BBC Philharmonic, create music to inspire the generations that follow and perform as a solo artist alongsideworldwide orchestras.
more…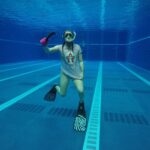 During 2019 Alyssa has competed at the European Underwater Hockey Championships as a member of the elite ladies' team, winning a Silver medal. At the World Age Group Underwater Hockey Championships in Sheffield, Alyssa captained the U24 ladies' team and was also the flag bearer at the opening ceremony. Alyssa's team finished fourth, but along the way they beat the eventual champions, New Zealand! Earlier in the year Alyssa was nominated for the Amateur Sports Personality of the Year at the Devon and Cornwall Sports Awards. Alyssa is currently training hard and hopes to compete at several domestic competitions over the next six months and will trial for the elite ladies' team that will compete at the 2020 World Underwater Hockey Championships in Australia.
more…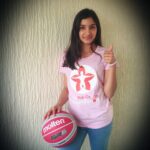 Darina wrote to us recently to say: "I would like to take time to thank the Rob George Foundation for their generosity for the grant made to my daughter, Leyah Sheikh. The grant will be used to assist Leyah for her very busy 2019 season. When we received the email approving Leyah's grant, we felt blessed. Basketball plays a very important role in our family and especially for Leyah. This grant made it possible for Leyah to purchase new equipment. Also, your support has motivated her to keep working hard to achieve her dreams. I hope that the Rob George Foundation will be blessed for your kindness and will continue doing all this amazing work."
more…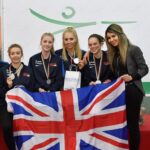 We are very grateful to Amanda and Guy Powell for updating us on the sporting achievements of their daughters.  They say: "Elisabeth won the British Under 23 Championships in February, which she was delighted about, particularly as she defeated a top ranked European fencer to do so.  She then went on to win a bronze medal at BUCS (British Universities and Colleges Society) only being knocked out in the semi-finals by a Canadian fencer who went to the Rio Olympics last year.  Having also been part of the team that won the gold at the British Club Teams Competition in November, they competed in Italy in January and finished 8th in the European equivalent, which was a really good result. "Alex has just returned from the Cadet (Under 17) European Championships where the Great Britain women's epee team came second.  This was a fantastic achievement as it was the first time such a team had medalled at this major competition.  They had to build up a ranking from previous internationals during the season and went even better than the fifth place in Copenhagen and a fourth position in Luxembourg to win the silver medal. "As ever, we are very grateful for the support which your foundation provides - without such help Elisabeth and Alex could not achieve as they do."
more…