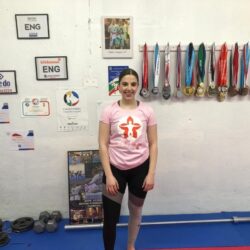 Imagine…
Karate champion Sadie said: "I want to say a huge thank you to the Rob George Foundation for supporting me, this largely helped fund my competitions at the beginning of this year. At this confusing time, especially for athletes they have remained supportive of my journey. Although there are no competitions training continues and with the help of the foundation, I have been able to buy equipment to train safely at home. I am so grateful for the Rob George Foundation's support as Karate is a fully self-funded sport this helps me on my way to achieving my goals." Thanks, Sadie, for keeping a smile on the face of the RGF
Your support has made a difference…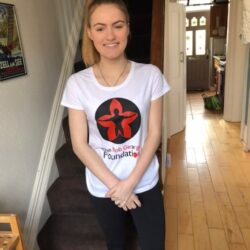 Fencer, Ellen emailed us an update over the weekend and said: "It's been an unfortunate abrupt end to the season; however, I've been really happy with my competitions and performance in my first year of u20s. As I unfortunately cannot fence during this time, I've been keeping fit and doing as much as I can at home to prepare as best I can for next season. I'm incredibly grateful to the Rob George Foundation, which is a fantastic charity which has supported me this season and enabled me to work towards achieving both this year and next year's goals in my sport." Thanks, Ellen, for keeping a smile on the face of the RGF
more…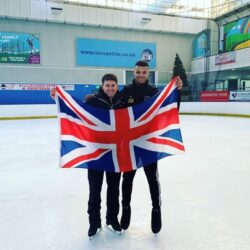 Elliott has just moved up to Senior level and represents GBR at an International level. He started skating at the age of 7 and has won many competitions up and down the country at various levels. He has competed in the British Championships a total of 5 times, where his greatest achievement to date was finishing his Junior season with a silver medal. Last year, he was invited to skate internationally travelling to both Slovenia & Serbia, finishing in 5th place in both competitions. As he has now moved into the Senior level, Elliott knows the hard work has only just begun. He not only managed to qualify for the British Championships in 2019, his first season, but also represented Great Britain in the Toruń Trophy in Poland in January. One of Elliott's main goals is to get the qualifying score for the Europeans Championships, and he needs to compete in more Internationals in order to gain the experience to achieve that. Elliott is currently studying at Northumbria University. He trains 5 days a week with a 5am start and a 75 mile round trip to the rink followed by University lectures, then further training at a local rink or off ice training in the gym, all of which is funded by Elliott himself, therefore the Rob George Foundation is a lifeline to young athletes who have worked so hard to reach the highest level in their chosen sport. As figure skaters receive no funding from their governing body, the grant from The Rob George Foundation will allow Elliott to continue to strive for his goals. It is fantastic as it allows young athletes to keep pursuing their aspirations in a sport they have put their heart and soul into for many years.
more…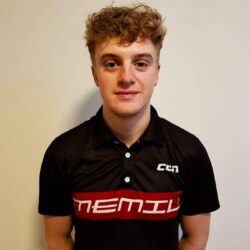 20-year-old Ollie, from the West Midlands, was a late convert to cycling having been a successful National level athlete and highly competent cross-country runner. Since starting to cycle he has been the Junior Midland TT Champion and Junior Club Record Holder at Worcester St Johns Cycling Club. On winning a few Road Races in the summer of 2018 Ollie knew he had to cycle on the Continent to pursue a career in the sport once he'd finished his studies. Ollie contacted us recently to share his progress with us and his thoughts about the RGF, He said: "In 2019, I spent 6 months racing in Belgium, which is the undisputed heart of competitive cycling in Europe. I was entirely self – funded last season, having worked multiple part time jobs in the winter to save for the coming year. I'm also fortunate to have a very supportive family. This was great; however, it was very difficult to train full time and earn. I'd picked up a virus in the winter of 2018 which I'm sure was from doing too much. This setback certainly hampered my season last year, though I still learnt and improved so much. I had the time of my life and knew I wanted to follow a similar path for 2020. I'm still very much on my journey though it is heading in the right direction. This coming road racing season, I will be representing a Continental Swedish Cycling Team, being the only Brit in the set up. After my experience in Belgium, the Team Manager of Memil Pro Cycling recognised my drive and potential and has given me a chance in the Team's U23 team for 2020. I will be racing a calendar of races across Europe and coming home to the UK in summer to hopefully perform well in the National Championships, where I won't really be on the radar of the more experienced riders.
more…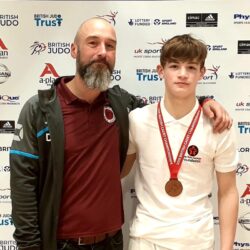 Tommy Jackson (15) has had a successful season of judo fighting in the -18 category. His grant from the Rob George Foundation has really helped with the start to the new season and Tommy is off to a flyer! He won Bronze medals at the Welsh Open ranking event and again at the British Championships, on both occasions being the highest finishing English player. After his performance at the British Championships Tommy was re-selected for the England squad and the invited to a training camp for national players in Belgium. Tommy has recently completed an International training camp in Slovenia as part of the England team and on his return went to fight at the Adidas International tournament in Holland. Fighting in the -23 years category Tommy earned himself a Bronze medal. Back at the British Championships for -21's, Tommy had a brilliant day at only 15 years old and finished in 5th place against Britain's best! Tommy's dad, Dave, said: "Tommy would like to thank the Rob George Foundation for supporting his training efforts and is extremely appreciative of the grant and the additional opportunities that it is affording him." We all wish Tommy continued success in 2020!
more…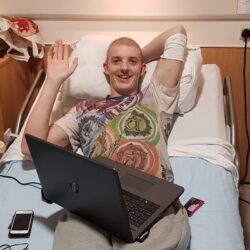 "Thank you so much for my laptop. It's been a massive help for me and has helped me pass the time in hospital. I've been here for 52 days so far and the laptop has helped me so much. Thank You Rob George Foundation!" Tom is being treated for Acute Myeloid Leukaemia (AML) and everyone at the RGF wishes him the very best!
more…