Making a difference – One Individual at a time
…fencing is your sport.  Well a bit like policemen and buses, you can't find one, and then three come along at the same time!  Chloe Dickson, Daniel Kiss and Elisabeth Powell are all part of the youth GB fencing pathway.  They are some of the super talented in the world of fencing in their age groups, and show total commitment both in terms of their training and competing.  Their families loyally try to support and finance their children's ambitions. There is next to no funding for this fringe sport.
Read more ...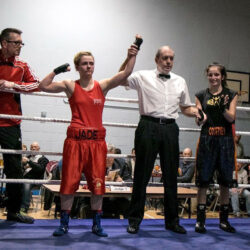 you are 17 year old Jade Ashmore.  Supported by the RGF, Jade continues to make quite a name for herself in the world of Women's Boxing. It was great to receive the new...
Read more ...