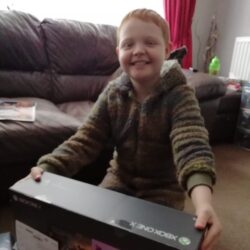 Imagine…
We'd like to introduce you all to RGF grantee, Charlie. Charlie is only 9 years old and was diagnosed with ALL in August 2018. Life has been extremely difficult for Charlie ever since; several rounds of chemotherapy and steroid treatment. For much of the last year Charlie has been isolated from his friends impacting on his emotional well-being, anxiety and self-esteem. More recently, Charlie has been able to interact with his friends a little more and they all share a love for gaming. All Charlie and his family wanted from the RGF was a new Xbox One X so he could join in with his friends and reconnect. Charlie's mum, Michelle, has kindly shared some photos with us showing Charlie with his new Xbox One X. Michelle has also shared with us her thoughts about the RGF and childhood cancer. She told us: "This fantastic charity has provided Charlie with his lifeline- the Xbox. Now, to many who have never been touched by childhood cancer they may not understand the importance of gaming. Children, like Charlie, have their childhood snatched away from them without warning and they must endure unimaginable things that even an adult would struggle with and they try to figure out what they've done wrong. Yes, they think that they must have done something wrong because why else do they have cancer when none of their friends have it. While other children are enjoying playing outside, participating in sports, going to parties, enjoying being young and carefree, children, like Charlie, are being operated on, poked with needles, pumped full of chemo, experiencing pain, side effects and experiencing endless hospital visits. So yes, gaming can be a lifeline to seriously ill young people. It's an escape from the almost intolerable harshness of their real life, enabling them to still play with their friends and chat through a headset without risk of infection and, believe me, when your child is going through hell hearing them chatting and giggling is absolutely priceless.
Your support has made a difference…
We are beyond grateful to the RGF for gifting Charlie his lifeline and he hasn't been off it since it's arrived, only sleeping 5 hours on the first day. It's made him so happy and it's possible even the RGF doesn't fully understand the positive impact this has had on Charlie and me. The RGF are angels and Rob must be looking down with such pride. Not all superheroes wear capes! What an incredibly selfless and inspirational young man to think of others and leave this world making a huge difference to children like Charlie. Thank you to Michelle and Charlie for sharing this very personal and inspiring message with us all at the RGF
Lewis contacted us to tell us about his amazing success. He said: "What an amazing experience Tokyo was - not just in competition but also on culture and opportunity. I'm very grateful for the opportunities boxing provides for me, travelling the world doing what I love and to win the Olympic Test Event out in Japan was up there with one of the best experiences of my life. The ongoing support from the Rob George Foundation has played a bigger role than I could've ever asked for in helping these dreams become reality and moving forward I hope it continues to do so. Thank you as always. We all have our fingers crossed that Lewis makes it to Tokyo in 2020!
more…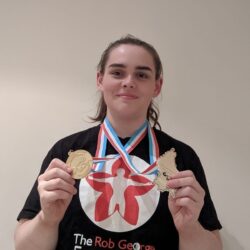 Powerlifter, Ashley, contacted the RGF earlier this year as she needed funding to attend the European Bench Press Championships in Luxembourg. Well, it's safe to say it went rather well. Ashley emailed us to say: "At the end of August 2019 I competed in Luxembourg, representing GBR in the European Under 84KG Bench Press Championships. Going on to win that competition and becoming European Champion was more than I could have hoped for. Without the help of the RGF I could not have made that dream come true and never have fulfilled my potential. I am extremely grateful for the RGF and the support they have given me. Thank you once again, I can't say enough how grateful I am!" Congratulations Ashley – an amazing achievement and the result of a huge amount of dedication and commitment on your part. We're all very proud of you!
more…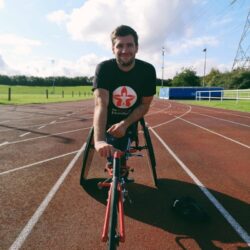 Danny applied to us for a grant in August 2019, as he needed funding to buy new equipment and to pay for the ongoing and inevitable repairs costs, plus travel costs to enable him to compete in competitions where he could achieve the qualifying times to be selected for the Paralympic games in Tokyo 2020. Danny recently sent this message to share with all our RGF supporters. He said: "Hi, my name is Danny Sidbury and I'm a T54 British athlete competing on the track as a wheelchair racer. I do a wide variety of distances both on track and road. 100m to 5000m on track and 5k to Half Marathon on road. My lifetime ambition is to compete in a Paralympic Games, I couldn't be more grateful for the support from RGF to help me get to the Paralympic Games in Tokyo next year!" All the very best Danny and we all hope you make it to Tokyo
more…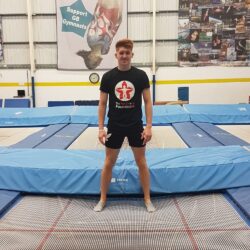 Peter, an elite trampoline gymnast contacted us recently and said: "My name is Peter Buravytskiy; I am an 18-year-old trampoline gymnast and part of the GB Trampoline High Performance programme. I have competed at an extensive series of national and international events, including World and European Championships. A few key achievements include; three-time British Championship silver medallist, English Champion, Synchronised British Champion and European Championship Team silver medallist. I am currently studying BA Business Management and Russian at the University of Sheffield. Since moving to University in September of 2019, I now train at Sheffield Performance Trampoline & Gymnastics Club, based at Graves Health and Sports Centre. Aside from training, I take pride in having the opportunity to travel and compete at key events for Great Britain, but unfortunately financial difficulties have always posed some restrictions and make it harder to achieve planned ambitions. Many of the major world events for GB are self-funded for juniors including competition entries, travel and accommodation. Some of these factors can create stressful situations, but I have been willing to overlook these for the love I have of the sport and the training I put in on a daily basis to compete. The Rob George Foundation has played an integral part through their support, in order to fuel my progression and initiate key opportunities. These have consequently enabled me to further my development as an elite athlete and to uphold consistency and successful results. When competing I strive to carry the generosity of the Rob George Foundation and to fulfil their support through the achievements attained and those I aspire towards in the future! I am very grateful to both the RGF and the trustees who have made this year incredibly rewarding and through continued persistence have helped open a greater path towards achieving my long-term goals within European, World and Olympic prospects. Everyone at the RGF wishes Peter all the very best with his long-term goals and he certainly looks well set to achieve them.
more…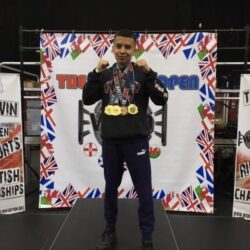 It's long been a dream of Rohan's to be a World Champion at Kickboxing, and earlier this month he realised that dream. Rohan won two Gold medals & two Silver medals representing England. On top of this magnificent achievement Rohan had also competed at the British Championships in September when Rohan won three Gold medals.
more…