On this page you'll find details of events over the next few months.  We'd love to see you at any of these and if you have ideas for fundraising activities – however challenging or unusual – it would be great to hear from you. Send your ideas to philip@therobgeorgefoundation.co.uk 
You can also help the Rob George Foundation when you shop online – and it doesn't cost you a penny!  Click here to go to our easyfundraising page and find out more.

---
END TO END – WITH LOVE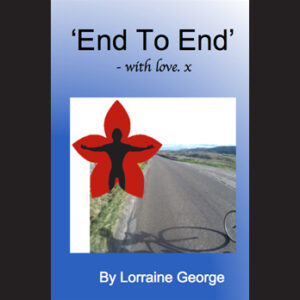 This book tells the story of four years in the life of an ordinary mum (Lorraine George).  It's a book from the heart, that attempts to record and share what it is like to find your life out of control.
"End to End – with love. x" is a journey through the eyes of a mum, as her youngest son faces a life threatening illness.  Alongside this runs an account of her journey, literally from the end to end of Britain, on a bike!
Click here to see more details and order your copy.  All proceeds from the sale of this book will go to the Rob George Foundation.
---
List of Events

8th February 2020 - 15th February 2020
All Day

8th–15th February 2020 – SellaRonda, Italy.

Please join us for the second snow adventure – with a few challenges to help raise funds for the Rob George Foundation. We would love it if you could raise any amount in sponsorship for the 4 challenges –that would be fantastic!

7 nights with 6 full days on the snow, 4 days of RGF challenges: including the SellaRonda in both directions, and a Onesietreasure hunt, there will be snow-shoe challenges too –led by Pip and Lorraine!

Chalet Soldanella,Selva, in the stunning Italian Dolomites.
£1250pp

Cost includes:

Return flights from Gatwick and transfers to/from the resort.
Buffet breakfast with cooked option
Afternoon tea/coffee with fresh cake
4 course evening meal with pre-dinner aperitif, wines during and after dinner, coffee and chocolates
Hot drinks all day –catering for 5 days –pizza party and tour lunch on the other two days.

Very limited places available –don't delay in booking your place.

Transfer your deposit of £250pp (non refundable)to :-
The Rob George Foundation
Sort Code: 40 51 62
AccountNos: 27814350
Add your name and "Ski for Rob" as the reference.
Balance of £1000 due 1st Nov'19 –pay in instalmentsif it helps!!

Continue reading

20th June 2020 - 21st June 2020
All Day

The Essex Way is a way-marked 81-mile long walk, starting in Epping in the southwest, crossing the Dedham Vale and Constable country, finishing at the port of Harwich on the Stour estuary.

It passes through ancient woodlands, open farmland, tree-lined river valleys and leafy green lanes, unveiling historic towns and villages along the way. Follow the poppies……………..

Calling Local Businesses, Groups of friends, individuals and Clubs………

We have divided the 81-mile Essex way into 10 sections.
There will be a check-in at each start/end point with directions for walkers, emergency
supplies and medals for participants!
Gather your team or group.
Decide who is going to walk which sections. (You can walk as many as you like, and stop or
start where you like – but the challenge is to cover the whole walk if you can.)
The event is carefully timetabled – so arrive at your allotted start point.
Prepare to receive your team's baton and follow our pace setters to the next check point.
(You are, of course, free to walk at whatever speed you are comfortable, but the 3 miles/hr
will get you to Harwich in daylight hours and in time for fish and chips!)
Collect your medal.
Put your feet up!

When?………
This walking event will take place over the Summer Solstice Weekend of 20th/21st June 2020. Walking will take place in daylight hours only. All walkers will be free to either keep up with the pace (approx. 3 miles/hr) or walk at their own speed – the pace-setters are only there to make sure our Olympic Torch makes it to the next team's start point on schedule

Why?…….
The Rob George Foundation exists in memory of Rob, who died aged 21 in 2013, after a battle bravely fought against Leukaemia. Please visit: www.therobgeorgefoundation.org for lots of information on the work we do.

We aim:-

To provide practical and/or financial support to young people with life threatening or
terminal illnesses.
To provide financial support to young people who demonstrate exceptional commitment
and/or ability in the worlds of sport or performing arts but may be held back by their financial situation from pursuing their goals.

And one more thing…..
Please come and walk with us because you can, and because you owe it to yourself to get up and
out and to explore the beautiful Essex countryside on your doorstep! You will be amazed by its
variety and splendour. Whether you choose to rise with the mid summer sun or at a more leisurely
time, this is your opportunity to mark the summer and achieve something really special in the
company of family, friends and colleagues!!

To enter and for more information…..

Please download the entry form.

Continue reading
---
Information PackTo help you with your fundraising activities, please contact us for our Fundraising Pack.
Powered by Events Manager