Declan has produced this short video and provided us with a few words about his progressand feelings for the RGF.
Click on the link to watch Declan's video:
https://www.youtube.com/watch?v=6M4bjvqSMHo
Declan told us: "After graduating with my degree in classical piano performance, conducting and composition, I was all set to continue my progression to establish myself as a professional musician.
"Sadly, my progress was hampered by the pandemic and the lack of a suitable professional quality instrument at home during those years when so many avenues in the world of the performing arts were closed.
"While studying I had access to a plethora of beautiful instruments, so returning to a decade old electronic piano came as a shock.
"With the help of the Rob George Foundation I have been able to purchase a beautiful KawaiConcert Artist 99 hybrid instrument which will be the heart of my studio going forward.From here I will be able to put in the daily hours required to perfect the highest level of performance preparing for concerts and recitals and will also use it to compose, record and teach at, thus ensuring I can achieve the very highest quality of work.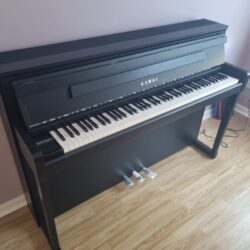 "Purchasing this instrument and continuing the artistic progression it directly facilitates in multiple ways would not have been possible without the generosity of the RGF and I am incredibly grateful for their support.
"I've been lucky enough to work with this wonderful organisation for many years at this point and look forward to hopefully doing so for many more to come."
RGF trustee, David Cant, said: "The RGF's association with Declan dates back many years. While studying at Colchester Institute, during which time the RGF was their Charity of the Year, Declan helped raise funds for us, notably at their Major Music Project. Since then, Declan has continued to support us through his musical performances. We wish him a successful career in music."