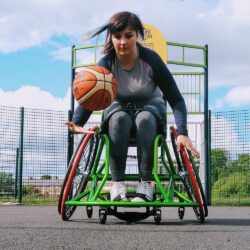 Imagine…
Sarah-Marie contacted us recently with an update to share with us the difference the RGF has made to her life and to share her story with our supporters. She told us: "Since I was six years old, I competed regionally in long distance running and rounders for 10 years, winning sports personality of the year at my school. Sport always enabled me to feel fulfilled, that the only barrier between myself and success was the amount of effort I put in. Unfortunately, that soon was no longer the case. After getting some back pain at 14, what was originally thought of as a simple sports injury became much more serious after an x-ray found out I had a birth defect in my spine, as I grew, this condition as well as my hypermobility paired with fibromyalgia led to a very dark time in my life. I could no longer turn to sport as a relief in my life, a week before my 19th Birthday I was rushed to hospital for unbearable pain throughout my body, and on bad medication I couldn't eat the entire week, and due to my medical conditions my college decided to ban me from campus for 2 months. I honestly did not know how my life could go in a positive direction. A few weeks into starting university in Hull, someone asked me if I was interested in wheelchair basketball. After going to the national women's league tournament, I was inspired by the 100s of women empowered through sport and I knew I had found a new outlet for my passion for sport. Nearly a year into playing (before the pandemic) I was training 4-10 hours a week and competing in several leagues. Unfortunately, unlike the sports I played earlier on in my life, there is a huge barrier to entry: the equipment. Before the support the RGF so kindly gave me, I was borrowing a sports chair that was not suited to my body; causing me pain and constant injuries, leading to me needing more physiotherapy. Because of the RGF, I will finally be able to play at my most confident on court and give it my absolute all when the season starts again.
Your support has made a difference…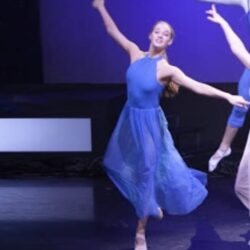 The RGF awarded Keeley a grant in 2019 and she kindly contacted us earlier this week to let us know how she's getting on. Keeley said: "I would once again like to thank the RGF for their help and support in enabling me to attend The Hammond in Chester, where in September last year I began a 3-year Level 6 Diploma in Professional Dance. The Hammond is renowned throughout the world of Performing Arts for providing outstanding dance training and provides a strong foundation for entry into professional life in the Performing Arts and to secure and sustain employment as a professional performer. As well as undertaking my normal everyday classes which include fitness, ballet, tap, jazz, zumba and contemporary, I have taken part in many different workshops ; I took part in a fosse workshop in which I learnt repertoire from the musical Pyjama Game to the song Steam Heat. Just days before returning home due to the current health crisis all senior dance students put on their annual senior dance production. It was an absolutely amazing experience and an honour to be part of and I cannot wait to do it again next year. I am currently at home but undertake all my classes via Zoom. Last week I had a Zoom Workshop with a former Hammond student who is now a Showgirl! She was so inspirational. I also have a Zoom Jazz Workshop this week hosted by a former Hammond student who will share with us her professional expertise. I am so grateful for the support I have received from the RGF, without whom, these last 8 months would only have been something I could have dreamed of, so thank you xx" The RGF wishes Keeley every success for the future.
more…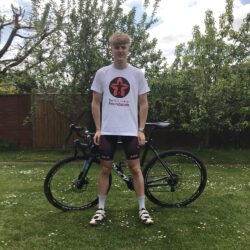 Cyclist, Ollie, contacted us recently and told us: "I have been very fortunate to have spent a large portion of my cycling pre-season training in Majorca, where I was able to give my all into preparing for the coming season. This, of course, would not have been possible without the amazing support from the RGF. In the house where I had been staying, we had a TV which mainly featured Majorcan television, and I remember watching the news of the Coronavirus beginning to emerge in Asia at around the end of January. It seemed serious, but it was difficult to comprehend the severity of the disease with it being so far away. Fast forward to now, the beginning of May, and look how things have changed. I believe we will be lucky to have any races in this 2020 season, but it is totally understandable, and something all of us in the cycling scene must accept. I have been trying to adopt a more positive attitude and approach to life, so am most certainly not looking at this cycling year as a write-off. It has been a great opportunity to develop both on and off the bike, both physically and mentally. I have also tried to help in these unprecedented times – I have been volunteering via the GoodSam app, and recently got a part time job working in a local Care Home. I look forward to 2021 and am using this time to help plan and prepare for the future. I am still ticking over with my training but enjoying mixing it up by doing some off-road rides taking in all of the spring nature. Stay safe!"
more…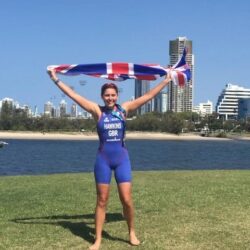 I took up triathlon when I when to University in Bath 3 years ago as I thought it sounded fun and quickly got hooked. After my first few races and having been inspired by my Bath team mates who are competing at an international level, I set myself the challenge of qualifying to represent Great Britain. I worked extremely hard to achieve my goal and I qualified for team GB in Cardiff the following year going on to race at the ITU World Triathlon Championships 2018. I finished in 30th place at this race. My next goal was to improve on this and increase my rankings within team GB. Having stepped up my training, and with the support of fantastic coaches, I have achieved this. 2019 saw me finish in 8th place in the ITU World Championships, Lausanne, where I was the first British woman across the line. In doing this I have automatically qualified for the world championships in Edmonton next year, and I successfully secured my place in team GB for the European Championships in 2020. Having had a better start to this sport than I had expected I am now wanting to step it up another gear and build on my achievements to date. My focus for 2020 will be the World and European championships where I aim to finish in the top 3. I am currently working hard and training the best I can at home for the World and European Championships which have been postponed to end of the season. My training at home involves cycling indoors on a turbo trainer, strength and conditioning in the garden, outside for running and lots of dry land swim exercises. As well as training over 20 hours a week I am studying full-time or my degree in Biochemistry at the University of Bath. The support from The Rob George foundation has been extraordinary and has help fund my race fees for World and European championships. Without their help and support I would be unable to race at the World and European championships this year. I am very excited to be racing at the end of the season and am looking forward to seeing what I can do with all the hard work I have put into training over the winter. I hope to make the Rob George Foundation proud when racing at World and European Championships and cannot thank you enough for your support.
more…
Athlete, Ayoola, has been in touch and told us: "I could not be more grateful for the Rob George Foundation and the financial support they have given me. Times are tough right now and this pandemic has taken away from most athletes ( including myself ) the immediate goals they were working towards, forcing us to dig even deeper for the motivation get up and train on our own with the hope that there will be something left of the 2020 season whether indoor or outdoor. We continue to train because that is what we love – it is our passion and the exciting journey we are all on. RGF has helped me get home training equipment, for e.g. ankle weights and a roller which I use in my home circuits. I also plan to buy some new trainers to develop my running. I have also challenged myself with something different by doing a 5k timed run and finding creative and innovative ways to carry out home exercises. I hope everyone at the RGF, and all their wonderful supporters are all keeping safe and well.
more…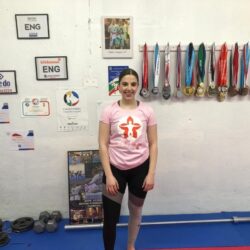 Karate champion Sadie said: "I want to say a huge thank you to the Rob George Foundation for supporting me, this largely helped fund my competitions at the beginning of this year. At this confusing time, especially for athletes they have remained supportive of my journey. Although there are no competitions training continues and with the help of the foundation, I have been able to buy equipment to train safely at home. I am so grateful for the Rob George Foundation's support as Karate is a fully self-funded sport this helps me on my way to achieving my goals." Thanks, Sadie, for keeping a smile on the face of the RGF
more…