On this page you'll find details of events over the next few months.  We'd love to see you at any of these and if you have ideas for fundraising activities – however challenging or unusual – it would be great to hear from you. Send your ideas to philip@therobgeorgefoundation.co.uk 
You can also help the Rob George Foundation when you shop online – and it doesn't cost you a penny!  Click here to go to our easyfundraising page and find out more.

---
END TO END – WITH LOVE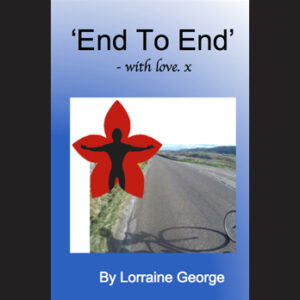 This book tells the story of four years in the life of an ordinary mum (Lorraine George).  It's a book from the heart, that attempts to record and share what it is like to find your life out of control.
"End to End – with love. x" is a journey through the eyes of a mum, as her youngest son faces a life threatening illness.  Alongside this runs an account of her journey, literally from the end to end of Britain, on a bike!
Click here to see more details and order your copy.  All proceeds from the sale of this book will go to the Rob George Foundation.
---
List of Events

31st July 2019 - 5th August 2019
12:00 am

Rob's Ride 2019

in aid of The Rob George Foundation
Reg. Charity No:1156026

Event Full – Thank you for your continuing support.

"The London Eye to The Eiffel Tower"

If you like riding your bike, however seriously, then the London to Paris ride will be on your list of "must do" rides. This Rob George Foundation ride offers an alternative approach to the classic fast and furious approach (zooming down the main roads) – we will be following the route of the Avenue Verte. Cyclists will be free to go at their own pace but the group will be re-united at regular stops along the way. The final section each day will be cycled as a group, arriving at our overnight stops together.

247 miles – 400 kms
70% off road
We will follow national cycle routes, river paths, disused railway tracks and where ever possible quiet "B" roads. NB. Some short sections (especially as we navigate our way out of London) travel up the odd busier road.
This ride is suitable for hybrid and mountain bikes.

Wed 31st July – Mon 5th Aug'19

For more information on the event and now to book your place, please download the Rob's Ride 19 – Itinerary and Booking Form.

Continue reading

8th February 2020 - 15th February 2020
All Day

8th–15th February 2020 – SellaRonda, Italy.

Please join us for the second snow adventure – with a few challenges to help raise funds for the Rob George Foundation. We would love it if you could raise any amount in sponsorship for the 4 challenges –that would be fantastic!

7 nights with 6 full days on the snow, 4 days of RGF challenges: including the SellaRonda in both directions, and a Onesietreasure hunt, there will be snow-shoe challenges too –led by Pip and Lorraine!

Chalet Soldanella,Selva, in the stunning Italian Dolomites.
£1250pp

Cost includes:

Return flights from Gatwick and transfers to/from the resort.
Buffet breakfast with cooked option
Afternoon tea/coffee with fresh cake
4 course evening meal with pre-dinner aperitif, wines during and after dinner, coffee and chocolates
Hot drinks all day –catering for 5 days –pizza party and tour lunch on the other two days.

Very limited places available –don't delay in booking your place.

Transfer your deposit of £250pp (non refundable)to :-
The Rob George Foundation
Sort Code: 40 51 62
AccountNos: 27814350
Add your name and "Ski for Rob" as the reference.
Balance of £1000 due 1st Nov'19 –pay in instalmentsif it helps!!

Continue reading
---
Information Pack
To help you with your fundraising activities, please contact us for our Fundraising Pack.
Powered by Events Manager