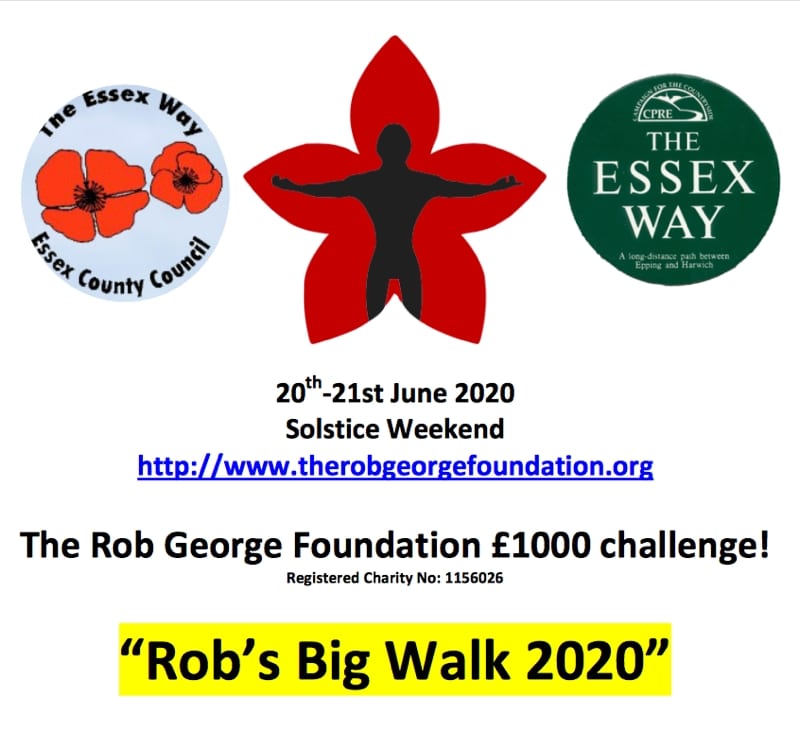 Date/Time
20th June 2020 - 21st June 2020
All Day
The Essex Way is a way-marked 82-mile long walk, starting in Epping in the southwest, crossing the Dedham Vale and Constable country, finishing at the port of Harwich on the Stour estuary.
It passes through ancient woodlands, open farmland, tree-lined river valleys and leafy green lanes, unveiling historic towns and villages along the way. Follow the poppies……………..

Calling Local Businesses, Groups and Clubs………
Following the route of The Essex Way Relay Race, we have divided the entire 82 mile route into ten bite sized pieces and are looking for teams made up of any number to take on the challenge of walking a section and raising at least £1000 for the Rob George Foundation. There will be a check- in at each start/end point with directions for walkers, emergency supplies and medals for participants!
When?………
This walking event will take place over the Summer Solstice Weekend of 20th/21st June 2020. Walking will take place in daylight hours only. Each team will have an allocated start time and an experienced Rob George Foundation "pace-setter" will lead each team. All walkers will be free to either keep up with the pace (approx. 3 miles/hr) or walk at their own speed – the pace-setters are only there to make sure our Olympic Torch makes it to the next team's start point on schedule!
Why?…….
The Rob George Foundation exists in memory of Rob, who died aged 21 in 2013, after a battle bravely fought against Leukaemia. Please visit: www.therobgeorgefoundation.org for lots of information on the work we do.
We aim:-
To provide practical and/or financial support to young people with life threatening or
terminal illnesses.
To provide financial support to young people who demonstrate exceptional commitment
and/or ability in the worlds of sport or performing arts but may be held back by their financial situation from pursuing their goals.
And one more thing…..
Please come and walk with us because you can, and because you owe it to yourself to get up and
out and to explore the beautiful Essex countryside on your doorstep! You will be amazed by its
variety and splendour. Whether you choose to rise with the mid summer sun or at a more leisurely
time, this is your opportunity to mark the summer and achieve something really special in the
company of family, friends and colleagues!!
To enter and for more information…..
Please download the entry form.