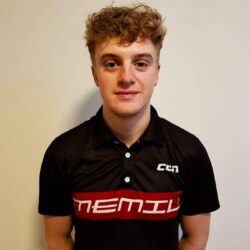 Imagine…
20-year-old Ollie, from the West Midlands, was a late convert to cycling having been a successful National level athlete and highly competent cross-country runner. Since starting to cycle he has been the Junior Midland TT Champion and Junior Club Record Holder at Worcester St Johns Cycling Club. On winning a few Road Races in the summer of 2018 Ollie knew he had to cycle on the Continent to pursue a career in the sport once he'd finished his studies. Ollie contacted us recently to share his progress with us and his thoughts about the RGF, He said: "In 2019, I spent 6 months racing in Belgium, which is the undisputed heart of competitive cycling in Europe. I was entirely self – funded last season, having worked multiple part time jobs in the winter to save for the coming year. I'm also fortunate to have a very supportive family. This was great; however, it was very difficult to train full time and earn. I'd picked up a virus in the winter of 2018 which I'm sure was from doing too much. This setback certainly hampered my season last year, though I still learnt and improved so much. I had the time of my life and knew I wanted to follow a similar path for 2020. I'm still very much on my journey though it is heading in the right direction. This coming road racing season, I will be representing a Continental Swedish Cycling Team, being the only Brit in the set up. After my experience in Belgium, the Team Manager of Memil Pro Cycling recognised my drive and potential and has given me a chance in the Team's U23 team for 2020. I will be racing a calendar of races across Europe and coming home to the UK in summer to hopefully perform well in the National Championships, where I won't really be on the radar of the more experienced riders.
Your support has made a difference…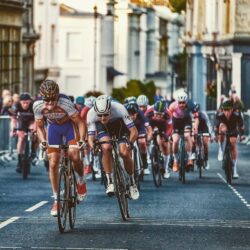 The support from The Rob George Foundation has been an amazing boost for me. I still worked at home before Christmas, though I flew out to Majorca at the start of January to begin a warm-weather training camp before the season begins. I've never had the experience of training in a warmer climate over winter, so I'm not taking it for granted one bit! I'm still here now, a month later, and the total commitment to my training and preparation for the season here over the last month is all thanks to the RGF. The RGF grant has helped cover well over a month of expenses out here on training camp, and it has enabled me to have a far better winter of training compared to last year! Without the support from the RGF, my whole training experience in Majorca would not have been possible, and it has helped remove financial pressures regarding my season and chasing my sporting dreams. All I can hope is that I am making Rob and his family proud, his story is inspirational. I am honoured to become an 'ambassador' for The Rob George Foundation. We all wish Ollie all the very best for the 2020 season!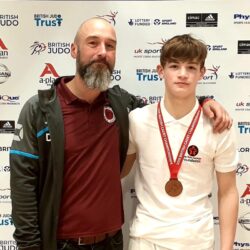 Tommy Jackson (15) has had a successful season of judo fighting in the -18 category. His grant from the Rob George Foundation has really helped with the start to the new season and Tommy is off to a flyer! He won Bronze medals at the Welsh Open ranking event and again at the British Championships, on both occasions being the highest finishing English player. After his performance at the British Championships Tommy was re-selected for the England squad and the invited to a training camp for national players in Belgium. Tommy has recently completed an International training camp in Slovenia as part of the England team and on his return went to fight at the Adidas International tournament in Holland. Fighting in the -23 years category Tommy earned himself a Bronze medal. Back at the British Championships for -21's, Tommy had a brilliant day at only 15 years old and finished in 5th place against Britain's best! Tommy's dad, Dave, said: "Tommy would like to thank the Rob George Foundation for supporting his training efforts and is extremely appreciative of the grant and the additional opportunities that it is affording him." We all wish Tommy continued success in 2020!
more…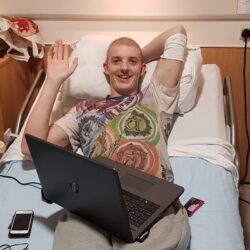 "Thank you so much for my laptop. It's been a massive help for me and has helped me pass the time in hospital. I've been here for 52 days so far and the laptop has helped me so much. Thank You Rob George Foundation!" Tom is being treated for Acute Myeloid Leukaemia (AML) and everyone at the RGF wishes him the very best!
more…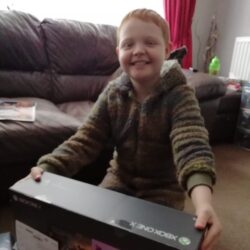 We'd like to introduce you all to RGF grantee, Charlie. Charlie is only 9 years old and was diagnosed with ALL in August 2018. Life has been extremely difficult for Charlie ever since; several rounds of chemotherapy and steroid treatment. For much of the last year Charlie has been isolated from his friends impacting on his emotional well-being, anxiety and self-esteem. More recently, Charlie has been able to interact with his friends a little more and they all share a love for gaming. All Charlie and his family wanted from the RGF was a new Xbox One X so he could join in with his friends and reconnect. Charlie's mum, Michelle, has kindly shared some photos with us showing Charlie with his new Xbox One X. Michelle has also shared with us her thoughts about the RGF and childhood cancer. She told us: "This fantastic charity has provided Charlie with his lifeline- the Xbox. Now, to many who have never been touched by childhood cancer they may not understand the importance of gaming. Children, like Charlie, have their childhood snatched away from them without warning and they must endure unimaginable things that even an adult would struggle with and they try to figure out what they've done wrong. Yes, they think that they must have done something wrong because why else do they have cancer when none of their friends have it. While other children are enjoying playing outside, participating in sports, going to parties, enjoying being young and carefree, children, like Charlie, are being operated on, poked with needles, pumped full of chemo, experiencing pain, side effects and experiencing endless hospital visits. So yes, gaming can be a lifeline to seriously ill young people. It's an escape from the almost intolerable harshness of their real life, enabling them to still play with their friends and chat through a headset without risk of infection and, believe me, when your child is going through hell hearing them chatting and giggling is absolutely priceless.
more…
Lewis contacted us to tell us about his amazing success. He said: "What an amazing experience Tokyo was - not just in competition but also on culture and opportunity. I'm very grateful for the opportunities boxing provides for me, travelling the world doing what I love and to win the Olympic Test Event out in Japan was up there with one of the best experiences of my life. The ongoing support from the Rob George Foundation has played a bigger role than I could've ever asked for in helping these dreams become reality and moving forward I hope it continues to do so. Thank you as always. We all have our fingers crossed that Lewis makes it to Tokyo in 2020!
more…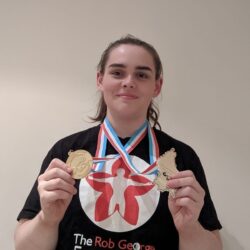 Powerlifter, Ashley, contacted the RGF earlier this year as she needed funding to attend the European Bench Press Championships in Luxembourg. Well, it's safe to say it went rather well. Ashley emailed us to say: "At the end of August 2019 I competed in Luxembourg, representing GBR in the European Under 84KG Bench Press Championships. Going on to win that competition and becoming European Champion was more than I could have hoped for. Without the help of the RGF I could not have made that dream come true and never have fulfilled my potential. I am extremely grateful for the RGF and the support they have given me. Thank you once again, I can't say enough how grateful I am!" Congratulations Ashley – an amazing achievement and the result of a huge amount of dedication and commitment on your part. We're all very proud of you!
more…